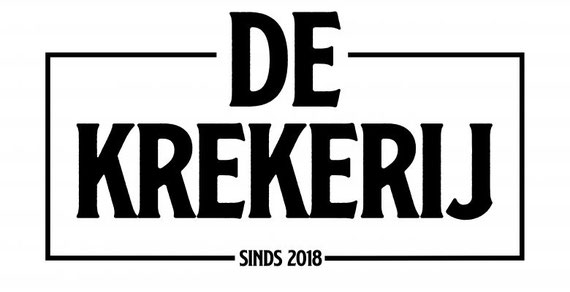 Designing a new Cricket Burger. 
So what the **** is up with the insects Thieme? That is a question I have been asked a lot recently. Haha, and I can totally understand the initial reaction. But once those people hear the story behind it, they often change pretty quick into a captivated and interested audience. So let me try with you too...
The "Krekerij" is a young Dutch company located in the same beautiful city as I live in; Rotterdam. They have already won several awards for their innovating approach on changing the still "meat dominated " eating culture, by choosing an alternative protein source: insects.  Their vision is; that in several years the use of insects as mayor food source can replace traditional meat & fish and become a more environmental friendly and sustainable resource. If you want to read more about "De Krekerij" and their products, go to www.dekrekerij.nl.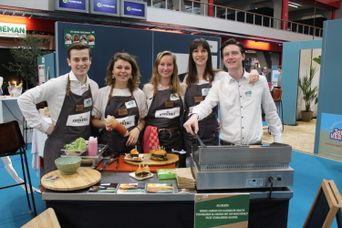 Horecava 2020 Amsterdam.
After meeting on a big Horeca/Food event in the Netherlands and finding out we were not only neighbors in the same city but also shared a common interest: the professional kitchen/cooking, a friendship/cooperation was quickly formed. When they asked me to think along and help design a new demonstration burger for their main product "The Cricket Burger" I did not have to think long about an answer.  
So it came to pass that on the 11 till 14 of January 2020, de Krekerij  let many thousands of visitors get a taste of this delicious new yummy burger for the first time. Of course I am very proud that this new burger dish came (partially) from my hand/idea. Of course I want to share it with you, so you can try this burger recipe at home too.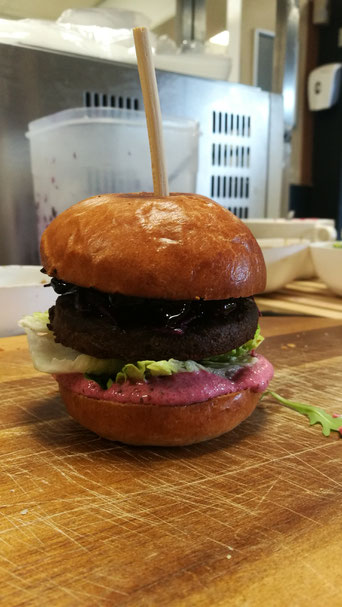 Cricket Burger with Red Onion Chutney & Red Beet Mustard/Mayonnaise.
Finding the right combinations with the Cricket burger was actually more tricky then I thought it would be, the strong Umami taste of the Cricket burger needs certain other flavors to accompany it. Finding the right ones was the trick here, of course we did not want to risk the taste of the burger being overwhelmed by the rest of the burger. The cricket was to be the star here. It also needed to look attractive and invite people to come and take a bite, this is the end result:
What do we need?
Burger buns.

Cricket burger.

Little Gem lettuce.

Sweet Red Onion Chutney (link to recipe here). 
Red beet Mustard /Mayonnaise (link to recipe here).  

Red cabbage salad.  
Whats next?
Prepare the Chutney and the Mustard/Mayonnaise according to the recipes.

Grill the buns on the plate or in a pan till they are nice and crispy.

Chop some Red Cabbage finely and bring it up to flavor with some pepper, salt, lemon juice and olive oil.

Fry or grill your cricket burger.

To build up the  burger:
Put a layer of the Red Beet mustard/mayonnaise on the bottom bun.

Then follow a few nice pieces of Little Gem lettuce, try stacking them to create some height.

Put the Cricket burger on top of the Lettuce.

Next step is a nice layer of our Red Onion Chutney.

Top it off with some Red Cabbage salad.

Place the top bun and you are done!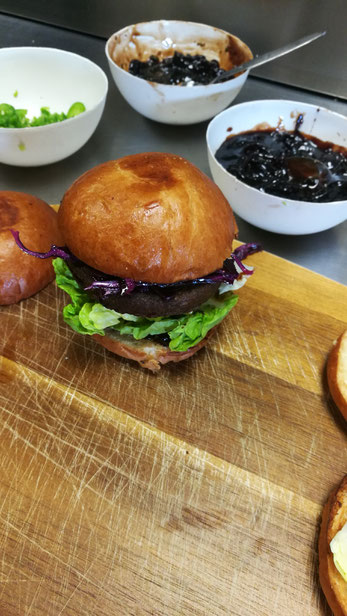 And now?
Now you are ready to eat :). This burger was designed to be tasted and sampled on a professional horeca/food event, but of course it will do just fine at home or with some fries at your local diner. 
Extra tips?
If you do not live in the Netherlands it might become tricky to get your hands on a Cricket burger. If you really do not succeed in finding one, a normal burger or vegetarian one will work too.

If you do live in the Netherlands; look at www.dekrekerij.nl to find out where you can get your hands on one or contact the nice people who answer your emails at their site.

See the recipe for the Chutney for tips on how to add a bit of spice to this burger. 
So, I hope you had fun reading (and cooking up) about the Cricket Burger. Enjoy tasting & stay on the lookout for more cooperation news/yummy recipes with Insect products.
Thieme